Net Nanny for Mac

Review Very functional parental control tool for your Mac. Best used for protecting your kids while they are online. In our testing, it gets

273

out of possible

772

points.



Net Nanny for Mac is a parental control tool with functionality for monitoring your kids' online activities. Its interface is thought out and the application is easy to use and configure.





Advantages:

Great URLs interception
Grouping of the intercepted information and settings into categories
Features for parental control
Disadvantages:

Available in English only
Not perfect at logging of chat conversations
Installation

InstallationSo we download the installer, mount the image and double click the corresponding button to start the installation. The installer opens, shows us system requirements, then EULA that we read and accept, tells us how much place it will take on the disk, asks us for a password of administrator and informs us it will need to restart the computer in order to finish the installation. We do all we are asked for and click "Restart" button in the end of the installation process.
The next thing we see once our computer is booted is a window telling us what actions Net Nanny for Mac has blocked and stating that we haven't configured our profile yet.

Setup AssistantWe click "Configure", put in administrator's password and see a window asking us to put in our e-mail and serial number for the keylogger. We put in the information and click "OK". Net Nanny for Mac informs that an update is available and we install it. What we see next is "Net Nanny Setup Assistant" that allows us to configure Net Nanny for Mac in few clicks. Once the configuration is finished the window of Net Nanny for Mac opens.
Interface

InterfaceThe main window of Net Nanny for Mac is divided into sections. The left column has a list of users of the computer, keylogger is installed at. Every user has its own profile in Net Nanny, so the keylogger can be configured to work differently while monitoring various user accounts.
Top of the right and the biggest part of the window contains a pair of check boxes and a raw of buttons with the names of monitored information. Clicking any of the buttons shows the corresponding configuration options in the rest part of the window, below the raw of buttons.
The bottom of the window contains one more raw, this time with two buttons only: one of them provides an access to few of profile related configuration options, the other one opens the logs window.

Logs
The interface of Net Nanny Logs is also divided into two sections. All the logged information is grouped into sections, names of the sections are located in the left column, the information itself, — in the right.
A raw in the top of the window allows filtering the information and performing a search in it. The bottom raw contains buttons for information's and logs' management. Both of the windows are thought out, easy to use and look nice.
OS Support
Net Nanny for Mac works on all the OS X operating systems from 10.5 Leopard to 10.7 Lion.
Security
As for the security, Net Nanny for Mac can be protected by password. It is interesting that this keylogger allows its user not only to set the password to access Net Nanny for Mac, but also use the administrator's password instead.
Unfortunately, the keylogger is not hidden, can't be accessed by typing a keyword or pressing a hotkey combination, and can't be set to remove itself on a pre-specified date. It shows the users under monitoring messages every time it blocks their activities, but the text of the messages can't be edited.
Monitoring
As for "Monitoring" section, Net Nanny for Mac logs system log on and off time, but doesn't log its inactivity time, pressed keys, clipboard content, file-activities, printed documents, sounds, mouse clicks and passwords. Net Nanny Logs contains a category that seems to show started applications (or those connected to the Internet?), but during our tests it has always been empty.
As for the screenshots, Net Nanny for Mac allows configuring their quality and can be set to make a screenshot of an active window only. However, it can't be configured to make screenshot every time mouse button is clicked and doesn't allow configuring their quality.
Online Monitoring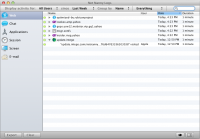 WebAs for "Online Monitoring" section, Net Nanny for Mac is just perfect at logging the visited URLs — it logs all the URLs visited in all the browsers taking part in our testing.Unfortunately, it can't be configured to make a screenshot every time a new website is visited.
As for the messengers' logging, the keylogger logs both sides of chat conversations made in Microsoft and Yahoo Messengers, but fails during our tests in AOL, Bonjour and Skype. Despite Net Nanny for Mac has an option of emails' blocking, it doesn't log their content.
Reports
As for the reports, the only way they can be received is by email. It should be noted that despite there are also three other ways to deliver log files in our testing, doing this by email is the handiest way. Net Nanny for Mac allows choosing which of the users to monitor by the means of already mentioned profiles. It also allows performing search in the logs and shows the duration of events.
Unfortunately, it can't be configured to monitor pre-specified applications only and doesn't allow setting the maximum size of its log files. It also can't be configured to show the logged information for specified dates.
Other

Schedule SettingsNet Nanny for Mac can work on schedule (allow network access during the specified periods), can block visiting of the specified websites and can react to keywords (block web pages with specified keywords and redirect browser to a pre-specified web page).
In "Other" section it only misses an ability to block pre-specified applications and translation to other languages except English.
The Bottom Line
Summing up we can say that Net Nanny for Mac is a parental control tool with nice interface and functionality for providing internet safety of your kids.
Review by
Keylogger.Org Team
Monitoring Software Features
Online Monitoring the group that reflects the availability of the functions to monitor users' online activity, such as URLs visited, 2-side chat conversations interception and emails sent/received.








Reports the group that basically analyzes the convenience of the intercepted information reading, including not only the ways to filter and show it, but also to deliver it remotely.











Other other functions that cannot be part of any of the other groups listed, though a still very important such as parental control functions, languages, reactions to specific keywords, etc.







Users' reviews and comments for
Net Nanny for Mac
Net Nanny for Mac currently has no reviews. Be the first to review it!