Spytech Keystroke Spy for Mac OS Review
Do you worry about your employee responsibility at the workplace or do you puzzle about your child PC activity? Fortunately, the way out is this effective software with ability both to record every keystroke and to make screenshots of one`s computer activity. In our testing, it gets

426

out of possible

996

points.



Advantages:

Advanced online monitoring
Easy-to use interface
Disadvantages:

Only English version is available
Some problems while displaying


Install - Read Me
Installation

Firstly, the installation disk of Spytech Keystroke Spy for Mac OS welcomes us with a greeting message. Once "Continue" button is clicked, you will see the main information about this program. After clicking "Continue" button again, there will emerge a window, which represents information about the destination folder. Press "Install" button again and here is you must enter administrator's password. After successful installation, we need to run program manually.


Interface
Interface

The program is located in Application folder of your Mac. This screenshot represents the main window of the program. The main control consists of three buttons: Settings, View Keystrokes and Start/Stop Logging.
As any program, it has its own advantages and disadvantages. Generally, the interface is very easy to use.

Interface - Start logging is not displayed
OS Support
Spytech Keystroke Spy for Mac OS maintains all the versions of Mac OS X, and OS X 10.12 Sierra is not an exception. We noticed some problems while testing, in pаrticular, "Start logging" button sometimes is not displayed. Sometimes, Screenshot Viewer stopped working after a soak testing.


Preferences - General
Security

Keystroke Spy for Mac OS from Spytech possesses standard security measures: invisibility after installation and password defense. In comparison with other keyloggers for Mac OS, it has configurable warning message, so, this feature can be useful for some users.


Log Viewer - Mail
Monitoring

Spytech Keystroke Spy for Mac OS has an advanced monitoring system – it captures Alphanumeric and System keys, it spies on Started applications and System logon. There are more advanced settings for the creation of Screenshots such as frequency, quality, and you can select desktop or just window to be shot.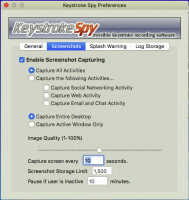 Preferences - Screenshots
Online Monitoring

Everything goes well with the online monitoring of Spytech Keystroke Spy for Mac OS – both all well-known browsers and Mail application are monitored. It`s also possible to make screenshots of the sites being visited. Skype is monitored as well.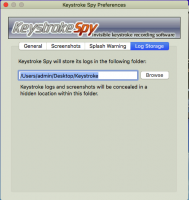 Preferences - Log Storage
Reports

As for the reports, Spytech Keystroke Spy for Mac OS is inferior to all previously reviewed keyloggers for Mac OS. The reports can be saved on a portable device. Besides, you can choose option to see reports for several days.
Other

There are no extra features at all and interface is available only in English language that is a little bit disappointing.
The Bottom Line

Spytech Keystroke Spy for Mac OS ranks the third place in our list. Online Monitoring is considered to be a strong point of this keylogger, but there are minor glitches with rendering.
Review by
Keylogger.Org Team
Supported Features
Online Monitoring the group that reflects the availability of the functions to monitor users' online activity, such as URLs visited, 2-side chat conversations interception and emails sent/received.










Reports the group that basically analyzes the convenience of the intercepted information reading, including not only the ways to filter and show it, but also to deliver it remotely.











Other other functions that cannot be part of any of the other groups listed, though a still very important such as parental control functions, languages, reactions to specific keywords, etc.







User reviews and comments
Spytech Keystroke Spy for Mac OS currently has no reviews. Be the first to review it!