Perfect Keylogger for Mac Review
A good solution for monitoring your Mac. Is good at monitoring chats and URLs, so is a smart choice for monitoring of your kids or employees. In our testing, it gets

474

out of possible

996

points.



Perfect Keylogger for Mac is a keylogger for parental control and monitoring of your home computer. Its interface is thought-out and the keylogger itself is easy to use and configure. Available in multiple languages.





Advantages:

Multi-OS support
Good URLs interception
Grouping of the intercepted information and settings into categories
Good stealthiness level
Available in multiple languages
Disadvantages:

Not perfect at logging both sides of chat conversations in Microsoft Messenger
Zero file activity monitoring
No emails' monitoring
Interface

InterfaceWe'll start our review from the description of interface of Perfect Keylogger for Mac. Just as almost all the keyloggers, this one has two windows, namely "Options" and "Log Viewer". "Options" window, as it is clear from its name, allows us to configure the keylogger. All the keylogger's settings are grouped into sections and their list is shown in a column located in the left part of "Options" window. Clicking any of them opens the corresponding settings in the right (and the biggest) part of the window. Nothing new, yet very handy as usual.
The interface of "Log Viewer" is very simple, yet this simplicity doesn't harm the functionality. The window shows the intercepted information in all its area except a tiny line with controls, located in the window's bottom. Very handy as almost nothing distracts the attention from the intercepted information.
As for the controls line, it allows switching between the types of intercepted information (that is also grouped into categories), and performing various actions with it and the logs. Again, simple, but very handy.
OS Support
Perfect Keylogger for Mac runs on all the OS X operating systems listed in our testing (e.g. from 10.6 Snow Leopard to 10.8 Mountain Lion). The developers' website also states that the obsolete version with limited functionality that supports OS X 10.3 Panther can be purchased.
Security
The security of Perfect Keylogger for Mac is typical for OS X keyloggers — its folder is hidden, it can be accessed by pressing a hotkey combination and is password protected.
Again, just as the majority of Mac keyloggers (at least the majority of those we have tested) it can't be accessed by typing a keyword, can't be configured to uninstall itself on a pre-specified date and can't inform the users they are under monitoring by showing them a warning message.
Monitoring

Keystrokes TypedDuring our tests Perfect Keylogger for Mac didn't show much in "Monitoring" section. It logged the typewriter keys pressed, but didn't log the system keys pressed, clipboard content, system log on/off and inactivity time, printed documents, mouse clicks, started applications and any of the files' activities present in our testing. The version we had tested also didn't log the logon password, but enabling this feature requires purchasing a special add-on for an extra fee.
The situation is different with the screenshot-making features. Perfect Keylogger for Mac allows setting the period of pictures' making, their quality and allows choosing between the full screen pictures or those of an active window only. Unfortunately, it can't be configured to make a screenshot every time a mouse button is pressed.
Online Monitoring

Websites VisitedThe situation is almost opposite in "Online Monitoring" section. Perfect Keylogger for Mac perfectly logs all the URLs visited in all the browsers taking part in our comparison except Firefox. It is also capable of intercepting of both sides of chat conversations made in all the messengers taking part in our testing except Microsoft Messenger.
Unfortunately, Perfect Keylogger for Mac can't log neither sent, nor the received emails and can't be configured to make a screenshot every time a new website is visited.
Reports
Perfect Keylogger for Mac allows sending its log-files by email, by FTP or saving them to a shared folder in LAN environment. Unfortunately, the keylogger doesn't have a button allowing the user quickly send the log-files to a portable device for their later viewing on other computer. Perfect Keylogger for Mac can be configured to monitor only a specified list of users, allows performing a search in log-files and can auto-clear the screenshots automatically after an expiration of a set period of days.
Unfortunately, it can't be set to monitor only a pre-specified list of applications, doesn't show the events' duration in its logs and doesn't allow its users setting a maximum size of its log-files. Specifying a period of days you would like to see the log-files for is a feature you will not find in Log Viewer of Perfect Keylogger for Mac.
Other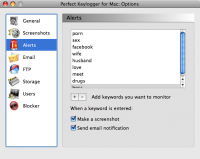 Alert OptionsAgain, we face a situation when a keylogger can block the websites from visiting, but can't block the applications from starting. However, Perfect Keylogger for Mac has something that currently none of other mac keyloggers taking part in our testing has, namely it is available in other languages, except English.
Unfortunately, it is impossible to change the interface language in few clicks as every translation requires its own version to be installed. However, in case of Perfect Keylogger for Mac the user at least have an alternative to English. Unfortunately, Perfect Keylogger for Mac can't work on schedule, but can be configured to react to words from a pre-specified list.
The Bottom Line
Summing us we can say that Perfect Keylogger for Mac is an easy to use and very functional mac keylogger that will come in handy for parental control purposes and for those of you who is interested in monitoring of your home computer.
Review by
Keylogger.Org Team
Supported Features
Online Monitoring the group that reflects the availability of the functions to monitor users' online activity, such as URLs visited, 2-side chat conversations interception and emails sent/received.










Reports the group that basically analyzes the convenience of the intercepted information reading, including not only the ways to filter and show it, but also to deliver it remotely.











Other other functions that cannot be part of any of the other groups listed, though a still very important such as parental control functions, languages, reactions to specific keywords, etc.







User reviews and comments
Perfect Keylogger for Mac currently has no reviews. Be the first to review it!