Elite Keylogger for Mac Review
A good keylogger, which functionality may be good for home monitoring, and may be enough for monitoring of kids. In our testing it gets

382

of

866

points.



Elite Keylogger for Mac is a good solution to monitor the Mac of your kid, or your home one. The keylogger doesn't require the knowledge of keyloggers or any keylogger-related topics for successful use.




Advantages:

Good security level
Support of modern MAC OS
Nice-looking, user-friendly interface
Grouping of logged information into categories
Available in three languages
Disadvantages:

Zero file activity monitoring
Installation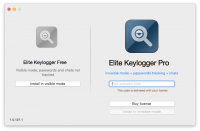 InstallationSo, once we download the installation file, we launch it and double click "Install Elite Keylogger". A window asking us if we would like to install Free ("Install in visible mode") or Pro ("Install in invisible mode") version appears then. As a Pro license was kindly provided to us by Widestep Security Software, developers of Elite Keylogger, we put in our activation code, and click "Install in invisible mode" button. Once we do this, the keylogger asks us to create a protection password. We put it in, and click "Continue". Then we put in our admin password, and installation finishes. Once installed, Elite Keylogger for Mac shows us a secret word, that should be typed anywhere, to open Elite Keylogger, just like it is made in Elite Keylogger for Windows. We type the secret keyword, put in the password and finally see the interface of Elite Keylogger for Mac.
Interface

InterfaceThe interface of Elite Keylogger for Mac is not the one we used to see. The main window contains a line in the top with "Start/Stop" button, and three tabs allowing to switch between log viewing, configuration and license-related options. Depending on the tab chosen, the rest of the window contains corresponding information, allowing either to see the logs (calendar, users' and applications filters, groups of intercepted information), to configure the keylogger or to put in another activation code. Despite the interface is a bit non-standard, we must admit it is very easy to use and handy. Well done!
OS Support
According to the website of Elite Keylogger for Mac, the application works on all the versions of OS X, starting from Snow Leopard, to the current 10.12 Sierra. We tested it on the last mentioned one and experienced no glitches.
Security
As for security level of Elite Keylogger for Mac, this product is hidden greatly, is protected by password and can be accessed by typing a secret keyword.
Unfortunately, it can't be accessed by typing a hotkey combination or configured to be uninstalled on a specified date. It also doesn't have an option of showing a user under monitoring a custom-written text.
Monitoring
Elite Keylogger for Mac can perform the following monitoring actions: monitoring of both alphanumeric and system keys, clipboard monitoring, making the screenshots and adjusting their frequency.
Unfortunately, the rest features of "Monitoring" section are not implemented: no file-activities monitoring, no started applications' monitoring, system log on/off and inactivity time, documents printed, mouse clicks, sounds. User also can't configure the quality of screenshots to be made, so as choose whether to make screenshots every time a mouse is clicked and if that should be screenshots of entire desktop or of an active window only.
Online Monitoring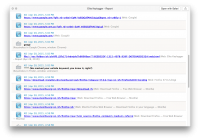 Online MonitoringThe result of Elite Keylogger for Mac are much better in this section, than in previous one. The keylogger detects URLs visited in all the browsers, except Opera (which is, really a very rare browser on Mac), and logs both sides of chats made in YahooIM and Skype.
As it was mentioned above, the websites visited in Opera are not detected by Elite Keylogger for Mac, so as Emails sent in Mail. Additionally, this keylogger doesn't intercept both sides of chats made in AIM and Messages (formerly Bonjour). It also can't be configured to make a screenshot every time a new website is loaded.
Reports
This section is also one, where Elite Keyloger for Mac shows a very good result. The product allows its user to choose which of the Mac users and which of the applications to monitor. It also allows performing a keyword search in logs, specifying of maximum log-files' size and configuring their auto clearance. Additionally, the information intercepted, can be viewed by a custom-specified period of time. The most important in this section, however, is ability of Elite Keylogger for Mac to deliver the log-files by email.
The only few things of this sections, that were not implemented in Elite Keylogger for Mac by its developers is events duration and the rest of log-files' delivery methods (by FTP, LAN and portable devices). In our opinion that's not a big loss for a keylogger.
Other
Elite Keylogger for Mac is available in English, Russian and Spanish. This is very good. Unfortunately, the rest of the features of this section are not available in the product.
Elite keylogger can't "react" to a keyword from a pre-specified list, can't be configured to work on schedule, to block websites and programs from a specified list.
The Bottom Line
Summing up we can say that Elite Keylogger for Mac is a good keylogger, which functionality may be good for home monitoring, and may be enough for monitoring of kids.
Review by
Keylogger.Org Team
Supported Features
Online Monitoring the group that reflects the availability of the functions to monitor users' online activity, such as URLs visited, 2-side chat conversations interception and emails sent/received.
Reports the group that basically analyzes the convenience of the intercepted information reading, including not only the ways to filter and show it, but also to deliver it remotely.
Other other functions that cannot be part of any of the other groups listed, though a still very important such as parental control functions, languages, reactions to specific keywords, etc.
User reviews and comments
Elite Keylogger for Mac currently has no reviews. Be the first to review it!